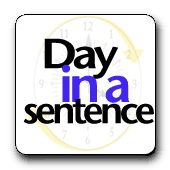 Be sure to click the icon to check out other teachers' Day in a Sentence submission for this week too!
They should be released on Sunday!
The last couple of weeks each year are filled with countdowns and remembrances of the past year, and from the time I was in middle school, I can vividly remember enjoying that nostalgic feeling as a song played and instantly transported me back to a specific time and place. Over time, it seems the actual volume of my life has grown louder leaving any quiet moments of solitude few and far between.
In the recent past, I've grown more accustomed to capturing images that serve as my vehicle taking me back in time.  Just yesterday, my husband shared an article with me about a site that creates a high-speed trip down memory lane.  If I had the chance to select and/or deselect some of the images they used, I might have made a few different decisions.  However, the fact that it was done for me, is probably the reason I'm even able to share it today.  I have so many movies a various stages of production – perhaps by the time my kiddos graduate, I'll have their birthday celebration movies from their pre-kindergarten years finished! 🙂
I can't think of a better representation of my gratitude.  Hold onto your hats – it's a pretty high-speed ride!  Enjoy!
Do you have pictures on Facebook?  Flickr?  Tumblr? Maybe you want to make your own life-flashing-before-your-eyes Pummelvision video too!  For any students who might be considering this – remember that if you post anything to your blog, it does need to meet our blogging guidelines! 🙂