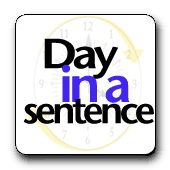 For many teachers and students, this marks the final week before the holiday break.  As I enjoy a hot cup of coffee on this blustery afternoon in mid-Michigan, I also know many of my colleagues students are wondering if tomorrow will bring our first snow day.
In our household, a snow day means our whole family gets to spend the day together!  Last year on one such day, my husband and I whipped up some holiday treats and strung cranberries to hang on the little pine tree on the corner –  all in the precious quiet hours before the kids woke up!
Once we heard them stirring, having enjoyed a few extra hours of sleep, we made our way to their room.  Some snuggles, kisses and talk about the plans for the day proved to take just long enough for our Weimaraner needed to completely ingest 2 pounds worth of strung cranberries!  Unexpected to say the least!  In fact, once I got over my initial shock and disappointment, I found myself wondering how surprised ol' Xanther was to find that sneaking just one from the table wasn't possible!
There's something so exhilarating about the excitement of the unexpected. Wherever you find yourself in your personal or school schedule – I invite you to share some your unexpected moments this week!  I will collect comments throughout the week and release them next Sunday.