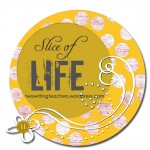 As the crowd settled in at what was now our third departing gate within the 2-hour delay, I opted for a chair near the main aisle just in case we needed to move yet again.  Having completed most of the work I brought with me, and finally feeling the strain of travel and long-hours spent thinking deeply about teaching, writing and technology, I welcomed the few moments to sit and observe.  To clear my mind.  To people watch.
My eyes were immediately drawn to the extremely pregnant woman and her family who I'd spotted at our first (or maybe second gate).  I was surprised to see someone traveling that pregnant though from the way she interacted with her family, she seemed like a real go-getter.  In the gate-shuffle, my new-found chair happened to be directly behind this same family.  They talked, laughed and reminisced about the mini-vacation they'd just had, when they started discussing books and authors.  Well, one book actually.  The book that her nephew had left on the kitchen counter and that he was supposed to have finished and written chapter summaries for to be turned in the following morning.
With each newly-announced departing gate that further delayed our arrival back in Michigan, the task before this middle-school student grew seemingly more and more impossible.
"It's not going to hurt you to stay up late one night.  You will get this project finished," his mom announced, clearly frustrated though whether it was about the delays of the typical teenage "forgetfulness" I couldn't tell.
I couldn't help but smile, as I sat there, in an airport, listening and sharing in conversations that I'm sure have taken place as a result of assignments I've given.
This post was written as part of a monthly challenge sponsored by Two Writing Teachers, to encourage writing and community.  The goal is to write a Slice of Life entry each day throughout the month of March.