"Mom, I'm awake," Calder yells from behind the closed door of his bedroom.
"Try to have some quiet time buddy," I respond, both amused by his adorable voice and slightly worried that if he doesn't nap, I won't get my ridiculously long to-do list completed.
"But, Mom I'm not feeling that sleepy today."
As I lean over from my perch behind the coffee table to open his bedroom door, I'm greeted by a smiling face peeking out from beneath his covers.  After spending a few minutes doing dino puzzles, and a few minutes tickling and snuggling, I'm settling in here to write, amazed by the quiet comfort of this little body in my lap!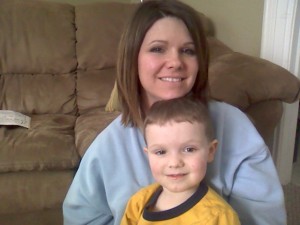 This post was written as part of a monthly challenge sponsored by Two Writing Teachers, to encourage writing and community.  The goal is to write a Slice of Life entry each day throughout the month of March.