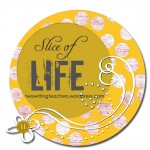 I remember the words of spelling pre-tests blurring together as I tried to eek even a few more minutes out of my day last night before finally giving in, and taking up residence under my favorite blanket on my not-so-favorite couch.
The next thing I know, it's 5am and I spring fall of the couch knowing I must act fast to get everything accomplished before it's time to walk out the door.  Quickly, I pull the ungraded tests onto my lapdesk and score away – amazed by how much easier this seems now, and yet kicking myself for not having finished them the night before.  Tests – scored.
I open my computer, eyeing the clock – 5:35.  Breathe I remind myself.  Cursing the lack of a number pad on my laptop keyboard, I begin tracking back and forth typing in scores at a painfully slow pace.
"Uh, Babe, do you think you could help me for a sec?" I ask as my gaze takes in the glowing 5:42.
"Sure, whaddya need?"
"If you could call out these scores, that would be great!"
Relieved, we start cruising through scores and classes.  Finally, at 6:08 we're finished.  Both still in our PJs, kids still sleeping.  In spite of a few clipped exchanges we were surprisingly courteous as we rushed around and somehow still managed to be pulling out of the drive at 6:42!!
This post was written as part of a monthly challenge sponsored by Two Writing Teachers, to encourage writing and community.  The goal is to write a Slice of Life entry each day throughout the month of March.