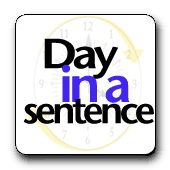 Just as I suspected, so many of you are up to terrific things.  As for me, on Friday, I collected eighth grade poetry units (be watching for some featured poetry soon) and first drafts of seventh grade I-Search projects.  Though, the biggest excitement is the Slice of Life Story Challenge my seventh graders are doing – not only is it a great writing challenge, it's a book-keeping challenge too!  Thanks Patti for all your help!
Kevin shares his MagPoem this week…
Bonnie says, "I'll be coming to you from Aruba for pleasure and taking along my computer to work on a new digital piece for our writing project's upcoming renewal the week I get back. Working in paradise-PERFECT!"  I so wish I could've spent the week in Aruba!  Maybe someday!!
Cheryl's charge this week is to find a way to begin using QR codes in student presentations!  I just learned about QR codes!  I'd love to share in your learning, Cheryl!
Anne says, "Having just participated in the 150th celebration for our small town's existence, my classes are looking at ways to effectively share online some of the photos, podcasts and videos taken during the weekend, when 100's of people returned to our town."  Sounds like a wonderful time!  If there are several images, something like Pummelvision might make a really interesting video.
Lynn explains "This week's creative expression in my classroom was a colorful beach ball covered in Greek and Latin word roots, tossed around among the students, who laughingly shouted out their definitions before sending it on to a classmate."  Wish I could've seen this!  I'm sure they loved it and didn't really realize they were still learning!