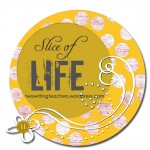 Yesterday, I read other slices and left a few comments.  Perhaps the only downside to all this slicing is the fact that now I'm getting WAY too many blogs in my reader! In any case, as I read and commented I found myself growing more aware of my identity.  Many of my fellow slicers are teachers, some are mothers, and all are writers.  Though, my singular comment as I select posts to read from the the growing list of comments, is the first interaction I've had with that individual.  As a keeper and collector of all-things digital, I have a variety of blogs and profiles and most-likely belong to sites I've completely forgotten.
For quite some time, my personal blog was the digital space in which I did my writing, reflecting and recording bits of family history.  Then, I decided to share more here with and for my students.  I started a different blog to use for all those "earn-an-extra-entry-in-my-giveaway-if-you-write-a-blog-post-about-it" posts since my "real" audiences wouldn't really want to be inundated with that stuff (nor would I really want those posts taking up valuable space in any blog-to-book possibilities I might someday consider).  So, when I read and comment and have no option to simply leave my name and desired url, I wonder what impression that leaves.  Should I leave a link here in the comments since there's not much information in my Google Profile?
How do you approach your digital identity or identities?  Do you keep them separate (personal professional) or integrate them?  Not only is that more realistic, but also much more manageable.  I realize this may not actually be a slice of life, but since it was inspired by SOLSC, I'm going to say that it counts.
This post was written as part of a monthly challenge sponsored by Two Writing Teachers, to encourage writing and community.  The goal is to write a Slice of Life entry each day throughout the month of March.