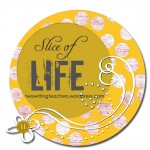 Have you ever had one of those bad mornings that seemed to start the night before?  That was me today.  Though it wasn't necessarily a bad night, running Seneca into the pediatrician (her turn for battle strep) wasn't exactly what I had planned. Yet, we made it – and it was actually kinda nice to spend some solitary time with her and despite a few bumps, we ended the evening with some snuggles and she drifted off to sleep.
A few hours later than planned, I took up residence on the couch, laptop at the ready to accomplish much, sick hubby snoozing on the loveseat.  I worked on various little tasks that seem to go undone, larger tasks that I probably shouldn't have taken on, and avoided a few others.  Since I discovered we have Top Chef on demand, I worked and watched.
I spent a second straight night going to bed too late.  On my way to school, I noticed something rather insignificant that seemed to hurt me probably more than it should have.  Then I got here, to find no internet connection.  So much for staying late Sunday night (and accidentally tripping the alarm – yeah, not sure why I didn't slice about that!) putting together those hyperlinked lesson plans, scheduling lab time, and making everything fit. just. so. Frustrated, I shot from the hip during first hour, until half-way through, connection was restored.
Honestly, I was a little nervous about how second hour would go today.   My plans were soft, as I needed feedback and participation from the students – which is a little difficult with this particular group.   They're reserved.  Seemingly uncertain, and considering my already negative mood, I was almost expecting they'd be apathetic too.
I was wrong.
They wrote about reading, and I asked them to tell me what kinds of reading and writing they do outside of school.  They shared.  We joked about tweeting and texting.  I have so much ideas I'd love to try with them.
We switched gears and a student volunteered to tackle our daily grammar exercise – leading it by himself.  He nailed it.   We shifted gears again, and wrapped up our poetry celebration.  One student brought the brownies he'd forgotten for yesterday's "Literacy Cafe" read around.  Brownies make everything better right?
We laughed.  I loved hearing students tell their peers, "Oh, you should read your poem about…" or "I really liked those two lines that rhymed."  We laughed.  We connected.  We discussed our upcoming project as a class.  We compromised and considered having everyone make a digital poster.
My concerns circled back to wondering if we'd have connection enough to do this.  Worrying about hogging the computer lab.  But somehow, it didn't seem to matter.   I'm not sure if the students felt it, but I really appreciate the day we had.
This post was written as part of a monthly challenge sponsored by Two Writing Teachers, to encourage writing and community.  The goal is to write a Slice of Life entry each day throughout the month of March.