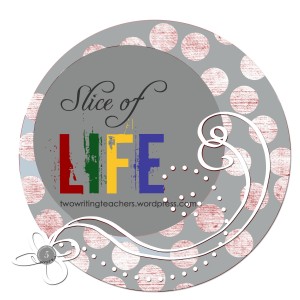 I sat there on the living room floor, trying to catch glimpses of the computer glowing before me as my daughter is busy pinning what has to be every last hair pretty she owns into my shoulda-been-washed-this-morning hair.  Phrases like, "just a second, Honey," and "Move right here, Babe," gently fell from lips that revolted again forming a hard line of frustration.
"Ok, Honey," she replied her lingering cold still evident in the nasal alto tone of her voice.  "It's OK.  I'll just move to the side and work on your hair."
Perfect, I thought.  And it was.  She brushed my hair, inserted several bows, clips and ribbons and I was able to work all the while.  She fussed about, trading pink for purple or a metallic headband for a sequined one.  As she worked, she talked.  The next thing I knew, she was holding my cheeks in her hands, turning me to look her squarely in the eye.  "You're a smart girl.  And you're beautiful," she offered gently.
Those were the magic words.  The words that tore me from my shoulda  tasks and brought me to my woulda, coulda tasks.  As her backlit curls framed her face, I felt my eyes focusing easily on hers and we shared a moment.  One that confirmed she is hearing the words we say – words that we hope are instilling in both Seneca and Calder with a sense that they have every opportunity.  And at the same time, with actions that said I was more important than anything else at that very moment.  An action that we all too quickly pack away in a center box at school, or chalk up to time lost due to arguing over the proper bowl for morning cereal.
I find myself a bit sad that I may have missed moments because of the other technology work I am doing.  But tonight, sitting here with bows and ribbons in my hair, listening to the words she says to me, I know I'm exactly where I need to be.
This post was written as part of a monthly challenge sponsored by Two Writing Teachers, to encourage writing and community.  The goal is to write a Slice of Life entry each day throughout the month of March.