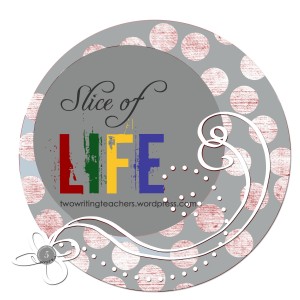 For the past few days we've lived in a different world.  A world where leafing through paper dictionaries solves scrabble disputes, where land-line telephones ring, where hopping online to check a recipe or leave a quick comment on a post you enjoyed isn't as easy as it sounds.  There's so much to enjoy in this tech-free zone – leisurely conversations at nap time, bundling up to trek through 20 inches of new-fallen snow.
There's so much to enjoy, and yet there's something to be said for the convenience technology offers.  The chance to capture the moment and share it.  This weekend reminds me to live in harmony with the technology we have at our disposal.  Allow it to enhance our lives and enrich our connections – but not at the expense of those precious moments enjoying the way the sun makes sparkles in the snow.
(Photo courtesy of Calder)
This post was written as part of a monthly challenge sponsored by Two Writing Teachers, to encourage writing and community.
The goal is to write a Slice of Life entry each day throughout the month of March.