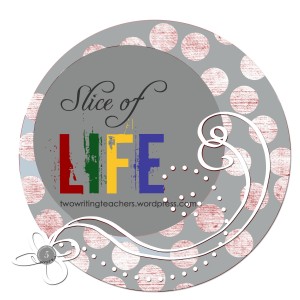 Today's Top Ten (+1)
hearing the wind howl
slice-y buzz from students
hearing that hubs and the kids missed the road to daycare because they were just "singing along."
finishing The Hunger Games (again)
starting Catching Fire (again)
enjoying lunch with just me and my girl
a notice in the mail that will cover some vehicle repairs
finishing a long overdue project
having a much-needed conversation with Mom
knowing hubs bought and prepared tomorrow's preschool snack (see #7)
counting my blessings ~ three of whom are soundly sleepy as I type.
This post was written as part of a monthly challenge sponsored by Two Writing Teachers, to encourage writing and community.
The goal is to write a Slice of Life entry each day throughout the month of March.