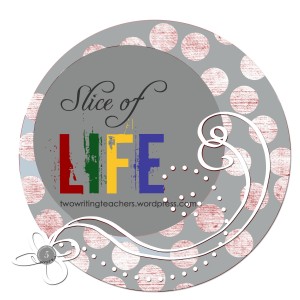 It's interesting how we fall into habits and patterns.  How they sneak up on us and just become an ingrained part of what we do.  Each night when I tuck the kids into bed, we sit on the lower bunk and read a few books.  By now, the kids know that they get to sit on my lap for the book they choose and then we climb under the fuzzy fleece blankets to share a few last thoughts for the day.  More often than not, I lay on the bottom bunk with my daughter instead of hefting myself onto the top bunk for snuggles with my soon-to-be 5-year-old!
The funny thing about habits though, is that there not always noticed until they're broken.  So tonight, as I climbed up to settle in with Calder, there was an excited hesitation.  He turned in to face me and squeezed me with arms that seemed far too strong.  He quickly flopped onto his back and asked me to tickle his belly.  The feather-light sweeps make him suck in his breath and with a giggle he says, "No mom!  Not like that!  That tickles."
Giggling, I say, "Well you told me to tickle your belly."
"Well, I meant tickle my neck."
Ready to keep the joke going, I quickly give a few little tickles right under his chin before he clamps his chin tightly against his chest.  "No, not there either," he laughs.
"Well, you said 'Tickle my neck,'" I say playfully as a smile plays on my lips in the dark room.
He breathes deeply for a moment.  Then, wordlessly, he places my hand on his chest and says, "Here mom.  Right here.  Tickle my heart."
I couldn't have said it better myself, I think quietly.
This post was written as part of a monthly challenge sponsored by Two Writing Teachers, to encourage writing and community.
The goal is to write a Slice of Life entry each day throughout the month of March.