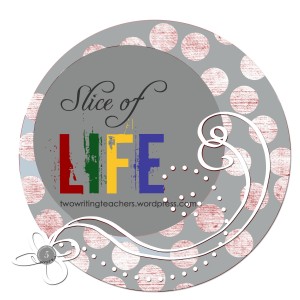 As I perched on the end of the couch, chatting with my mother-in-law and husband, the first hints of morning sun were peeking through the sheer white curtains.  Up early, I was anticipating last-minute busy-ness to prepare for Calder's birthday party today.  At the same time, it was a wonderful feeling to just let it happen and not worry about every ridiculous detail.  We talked about school, about assessments, about teacher evaluations.  As a former teacher, administrator and now school board member, it's always fun to talk with Mom.
I sipped hot coffee and thought I heard the faint click of a toy in the kids' bedroom.  Conversation continued, though there was a certain quiet morning quality to the tone and tempo.  I heard the click again, so I knew one of the kids was awake.   I made a quick trip to the kitchen for a refill and noticed three robins hopping through the yard.  A sure sign of spring, right?
When I made my way back, the sound was less click and more clapping.  A stuttered, stilted clap-clap-clap punctuated by pauses that were completely inconsistent.  Suddenly, it was full-on applause, but not a single word was said.  This in an of itself is highly unusual as most every other Saturday morning is met with the typical "Mom, I'm awake!"  Eager to see the birthday party boy, I hurried to his door.  There, he sat on his bed, smiling brightly and ready for the excitement in store.  He gave a sheepish grin when I asked if he was clapping because he was excited.
As I scooped him up, my worries about his late bed time last night and my hopes about the celebration to come carried us both into the promise of this day.
This post was written as part of a monthly challenge sponsored by Two Writing Teachers, to encourage writing and community.
The goal is to write a Slice of Life entry each day throughout the month of March.