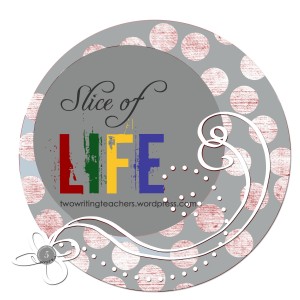 Hello dear friend.
It's been too long
since you've
shared the warmth
of your
gentle embrace.
I hope you, too,
enjoyed the
time we spent
together this day,
walking,
playing,
laughing,
running,
making memories.
Thank you
for stopping by
today and
offering this taste
of what's to come
as we spend
more and more
time
together.
I have a few other ideas I considered for this poem.  I'm curious, before playing with them in any sort of revisions, what your thoughts are.  Does this work?  It's simple, but too simple?  Most of my ideas come in the form of additions to this poem, but I'd be curious about thoughts on how it's currently arranged and if I should exclude some of what I have.  Thanks! 🙂
This post was written as part of a monthly challenge sponsored by Two Writing Teachers, to encourage writing and community.
The goal is to write a Slice of Life entry each day throughout the month of March.