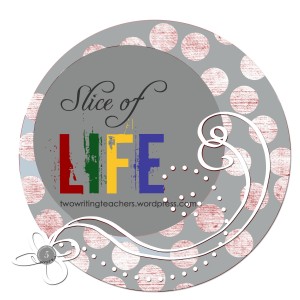 After watching the thermometer readings rise and fall over a two-day span, after doling out the appropriate doses of chewable Tylenol and Motrin, I finally decided to take her in.  The ragged look in her eyes, the raw edges of her discomfort merged with sleepy recollections of the night before when she woke – a sweaty mess from either the nightmare she must have endured or the breaking of the fever.  Her voice cracked as she tried to relay to me what she was feeling, but all that came through was a heart-breaking, "I don't love this."   Neither do I, Peanut.  Neither do I. 
Despite the unseasonable warmth of this spring day, I know that she is far hotter now than when we left.  I hoist her gently from her carseat and carry her inside, offering a silent prayer with each step.  The required paperwork is being drawn up while I sit with her, doing my best to keep a face of calm comfort.  In the car, I was prepared – a box of tissues within reach, but here I find none.  The irony makes me smile as I ask at the front desk.
Moments later, a woman in the waiting room brings a box to me, and I offer a grateful smile and quick, "Thank you" as I turn my attention back to Seneca.  They call my name to complete the intake process and I'm relieved that we'll be called back soon.  Her hot little hands hold tightly to my neck as I balance her on the small service tray while signing my name.  When I turn, the woman who had handed me the tissues, approaches.
"Excuse me.  My daughter, she's vomiting and in great pain," she motions to a woman kneeling on the floor, elbows propped up on the floral upholstered waiting room chair.  I take in the garbage can by her side and look back at the helpless expression on the woman's face.  "Can we please go before you?  They can stop this?"
No?  You can't go first? I hear myself think as fear grips my heart.  My baby's burning up.
"Um, I guess so, sure," I say remembering her kindness.  What are you doing?  Why did you say, "Yes?"
"Thank you, so much.  What's her name?  So we'll know when she's called," she asks.
Hesitantly, I say her name before I realize it's only us and them.  I sit, regretting my kindness and then feeling guilty for that sentiment.  I cradle my daughter and pepper her forehead with kisses that burn my lips.
"Seneca," the nurse calls from the door.  I'm simultaneously relieved and anxious as I look to be sure they head back quickly, so we can be called again soon.
"They're going to go first," I offer quietly, nodding my head backward in the direction of the woman and her daughter.  A few moments of confusion pass as the receptionist and nurse exchange information.  Finally, it's decided that we need to go in the original order and I offer look of apology to the woman as we make our way in.
Questions are asked, answers given and then I see the look of nervousness flash on her face before she tells me her temperature.  She leaves the room quickly and returns with a forced smile on her face and a practiced calm tone to her voice.
*                        *                        *
An hour passes and I leave with a much cooler and more comfortable toddler.  I wonder about the woman and her daughter.  I wonder if her condition was any more or less dire than that of my own precious girl.  I wonder if they understand that despite my internal misgivings about agreeing to let them go first, it was beyond my control to do so.  I know there will be more moments like these in the future, and I know with certainty that despite my firm belief in being kind to others, I will listen more carefully to that voice inside my head.
This post was written as part of a monthly challenge sponsored by Two Writing Teachers, to encourage writing and community.
The goal is to write a Slice of Life entry each day throughout the month of March.