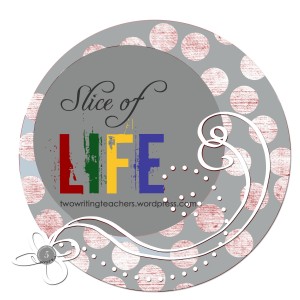 If you recall, yesterday I vowed not to speak of anything dealing with sickness, which means I can't tell you that Seneca tested positive for influenza today and that I spent yet another day home from school with the kids.  Wait?  Did I just say that?  Oh fiddle.  Well, that's all I'll say because what I really want to talk about is books.  Today is library day and for many of my students, I think they view it as a blow off day – a day where we don't really do any work.  Sure, it makes for easier planning, but it certainly isn't a day with no work being done.  It's simply done on an individual level and at a personalized rate which is often chosen (or not) by the student.
When I wander through the stacks with my students, I look at each and every book as an opportunity to leave my world for a while and enter the world offered between two covers.  Some worlds I enjoy far more than others and return to frequently.  Some, help me think about my own life and situations I might be facing.  As a self-proclaimed dreamer and a person who often has an internal script playing for real-life scenarios (many of which take dramatically different turns than I had the fortune of expecting), I find that time spent sloshing around in a characters muddy boots to be completely exhilarating.  Even now, when I see a favorite book reissued with a new cover, or happen upon an old favorite (Megan the Klutz) with its original jacket, I am immediately taken back to the time when that book was real and important in my life.
I remember struggling with the word "took" in my very first independently-read book back in Kindergarten and would give just about anything to recall the title of the book, or better yet get my hands on it!  I can still see its green and yellow wallpaper-like cover and remember covering the barcode with a hand-drawn pencil sketch of a rainbow for some strange reason. Probably the remains of an old-school temporary tattoo!  I remember reading But Maggie Wants a Pony (now published as Maggie's Wish) on the floor of our living room having stayed home sick one day in third grade. (Oh no!  I mentioned sickness again!) In any case, it's the first time I started and finished a chapter book in one day!  I spent summers with the Box Car children, and the better part of fourth grade as an honorary member of the Baby Sitters Club.
Much of fifth grade found me pining for a twin sister and a cross-country move to Sweet Valley, California!  Mrs. Swan, my fifth grade teacher read aloud several books that year, including Summer of the Swans (which we were convinced she chose only because of her name!), Mrs. Frisby and the Rats of Nimh, Indian in the Cupboard, Return of the Indian, There's a Boy in the Girls' Bathroom, and most likely a few more!  It may have been sixth grade when I found the much-needed Middle School Blues, followed by A Wrinkle in Time in seventh (my first real crush on science fiction).  There was The Outsiders in eighth grade, which we read as a class, and For Love of a Horse – a book I read within two days and promptly misplaced until after my book report presentation when I found it under the china hutch.
Books have always been a part of my life and I wouldn't say I come from a very "readerly" immediate family, at least not back when I was growing up.  I know some of my students will think I read because what else was there to do?  It's not like I could Google a video clip and kill time on YouTube back in the day.  But we did have video games and other things and yet, I have vivid memories of sleepovers at friends' houses where we'd turn in for the night by grabbing our books and reading – in our own worlds, but still fighting for the best position on the living room floor in our sleeping bag.  We'd giggle or gasp and ask each other what was so funny or scary or what-have-you.
I remember summer mornings in high school, waking up around 10, maybe 11 and yes, even sometimes around noon, only to roll over, grab my book off the floor and pick up where I left off late the night before.  I never did manage to find the best reading position while laying in the sun – arms overhead made them fall asleep too fast, but still I attempted it.  Perhaps that's one change I'm happy for with the influx of audiobooks, my main source of books these days.  I simply pop in my ear buds and I'm good.  I read while cleaning the house, doing dishes, going for a run – you name it.  There's a pros and cons to this form of book consumption, but ultimately, it fits my lifestyle right now and keeps me close to friends I've made and those I've yet to meet within the books yet unread.
So today, I was home, and missed my time with students in the library – brief as it may have been.  And, I know some of my students missed their time to enter the world of the characters they are meeting and knowing, connecting with or rooting for.  Having just finished the Hunger Games trilogy for the second time in preparation for the movie premier this week, I can't help but revel in the feeling that comes with being completely absorbed in story…and the power held by mere words on a page.
This post was written as part of a monthly challenge sponsored by Two Writing Teachers, to encourage writing and community.
The goal is to write a Slice of Life entry each day throughout the month of March.