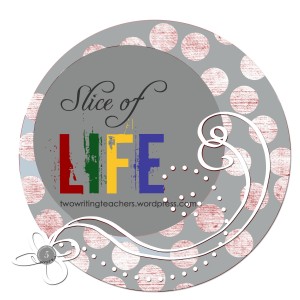 Last summer, I had the privilege of once again participating in a Lake Michigan Writing Project Invitational Summer Institute.  As a facilitator of this four-week teaching and writing institute this was a chance to talk, read, write, laugh, cry and learn with other educators in a variety of subject areas and grade levels.  At the close of the first week, which is lovingly referred to as "Boot Camp" seeing as we meet from 9am – 7pm for four days straight, we wrap things up with a writing marathon around downtown Grand Rapids.  It's also a day when past fellows return and join in on the place-based writing fun.  This year, our writing group decided to take an Eat, Pray, Love marathon as we began with lunch at Mezze, followed by an abandoned church, and finally the DeVos Children's Hospital, which we arrived at via the Meijer Heart Center.
This is what wrote that humid June Thursday, sitting with new friends who felt as familiar as a favorite pair of favorite jeans.
We must have looked lost.  "Can I help you?" asks the extremely pregnant physician, her belly keeping her hard-earned white coat parted at her sides.

"We're looking for the walkway to the Children's Hospital," Arda explains.  Breathlessly, she explains where to go and I smile recalling those final weeks of each of my pregnancies.

As we leave the formal fountain-filled waiting area of the heart center where our smiles and eager eyes scan the room taking in the artwork, the visitors and yet searching desperately for a plan to land.  We know we're in the right place. The final stop on our Eat, Pray, Love writing marathon – so why does it feel so wrong? Why do I feel the need to wander to search, why is inspiration eluding me?

We walk.  We transition from formal to fun, from the rich, elegant brick to the bright white, mosaic color-filled foyer of the Children's Hospital.  This is it, I think.  This is where I need to be.  Our smiles now partner with the children's voices, their squeals and laughter as they play.  Our eager eyes delight in the mosaic masterpieces – precisely placed tiles of opaque color and reflection.

How fitting that we find ourselves again in the company of kids, as if drawn by some unseen spirit.  The smell of waffle cones wafts my way as the pre-k crowd at the projection screen has been replaced by tweens who are slightly more adept at the simulated beach volleyball game.

This is a place where fun is celebrated, where the healing power of laughter and joy overshadows the sickness and despair that brings some through these doors.  Here as merely a visitor – not of a patient, but of a place – I'm reminded that if I simply follow the call, the pull, the prompting, I'll find a place of love – a place built for the happiness, health, and healing of children.
This post was written as part of a monthly challenge sponsored by Two Writing Teachers, to encourage writing and community.
The goal is to write a Slice of Life entry each day throughout the month of March.