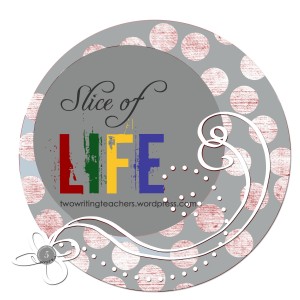 It's been a couple of days since I attended the midnight premier of The Hunger Games movie, and I while I'm still not sure I'm ready to write up my review, I suppose I'd best write it now before I lose my thoughts on it completely and seek other inspiration for the final week of slices.
For some reason, I'm having a hard time separating the book (the whole trilogy actually) and the movie.  I loved the books and found myself eager to continue reading every spare moment I could find (or intentionally carve out of my day).  I think I've read the first two books a total of three times now, and the last one twice.  I find them engaging and full of opportunities for discussion – especially Mockingjay.
The movie, seemed…good.  For the most part, they stayed rather true to the book, with only a couple changes that may prove problematic if there is an intention to produce film versions of the remaining books.  I was very pleased by Jennifer Lawrence's portrayal of Katniss – she embodied everything I envisioned of this strong character.  While other actors were certainly good, hers was the only role with which I felt completely satisfied.
If I could sum up my experience, it's that the book left me feeling the extreme highs and lows of the entire experience – on the part of both the tributes and some of those witnessing the events.  The film just didn't take those climactic moments quite as high, or those devastating moments nearly as low.  There were several moments in the movie when I found myself aware of the fact that I was watching a movie – which means I wasn't fully immersed into the world of the film.  I felt outside it somehow.
Of course, the argument of many is that the books are always better than the movies, but in this case, I think the movie could have been a little bit better.  I'd love to hear your thoughts on the book and/or the film!
This post was written as part of a monthly challenge sponsored by Two Writing Teachers, to encourage writing and community.
The goal is to write a Slice of Life entry each day throughout the month of March.