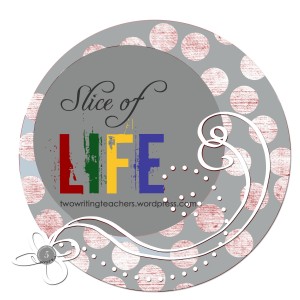 Here I am, sitting at my computer in the final moments of the day.  Having just posted my slice and knowing I still have work ahead of me tonight, I figured it was as good a time as any to make the switch.  The switch I keep talking about with my students.  Where I'm posting a day ahead, instead of a day behind. Concepts of time in writing have always fascinated me.  We can gloss over hours, days, months – even years and offer a clarity to our readers that it took us a lifetime to obtain.  Or, we can stretch those tense moments in a waiting room, on a sideline, or holding the receiver only to await whether it's good or bad news.  We can pull those moments taut with emotion, description and create the sense of angst and apprehension we felt through living them. So today, I look back.  Back at some of the 24 drafts I have of various posts, many of which have only a title with little to no text in the body.  Those, were easy to dismiss.  Some were misleading by their title and when re-opened, threatened to conjure up thoughts and feelings for which I'm certainly not ready to do business given the particular mood I find myself enjoying tonight.  Then one, with no title, seemed to fit.  It slid onto the waiting tips of my fingers with the ease I can only image Cinderella herself must have felt easing her tiny toes into a that glass slipper. Today, I looked back…at an untitled post from last year, when I'd just finished my first Slice of Life Story Challenge and was enjoying the much-needed relaxation of spring break.
April 5, 2011 Today is technically the first day of spring break, and I was able to spend a little more than an hour finishing up some school work this morning before taking a snowy hike through the the woods here in the Upper Peninsula.  We enjoyed a great hot dog roast for lunch and promptly curled up for an afternoon nap.  On our way to pick up pizza, we stopped at a neighboring sugar bush where Calder got to help tap a tree and learn about the process that goes into making the syrup he'll be using for breakfast tomorrow.  All in all, it's been a terrific day!
In looking back, there is so much knowledge to be gained and joy to be had about looking ahead.  With break once again on the horizon, I'm reminded to find joy in every moment.  To look forward with confidence and look back with gratitude.
This post was written as part of a monthly challenge sponsored by Two Writing Teachers, to encourage writing and community.
The goal is to write a Slice of Life entry each day throughout the month of March.