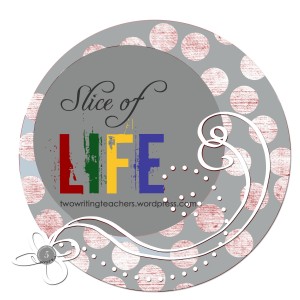 For the second straight year, I find myself both relieved to have written my way through March and slightly sad to see this challenge come to a close. My sadness is a bit heightened today due to the fact that I completely forgot to post yesterday. The exciting prospect of having the week ahead to fill with family fun and relaxation, even if we're heading to a cooler climate instead of a warmer one, seemed to disable my internal warning that typically sounded around 11 p.m.
Regardless, I refuse to let one day wipe clean the writing I diddo, the stories I did share, and the growth I saw in my own awareness of the world and the commitment of a precious few students!
This challenge is exhausting. It's grueling work, even more so when I know the power of comments and find myself barely able to post let alone comment on all the slices written by amazing students and teachers.
I'm already thinking ahead to next year and considering what I might do to improve the practice and experience for me and my students alike. I'm considering asking for a group of parent volunteers to read and comment on posts throughout the month. Asking other (former?) teachers or perhaps administrators to leave a little note from time to time. Lastly, I'm thinking that maybe within each student slicers link-up post, I may include an invitation that gives students an idea they might choose to write about.
Th possibilities are as diverse as the writers and the stories they have to share. It's accepting the challenge and coming together on this journey that brings about change!