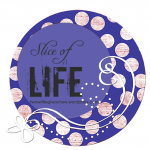 For the past week or so, that has been my question.
Before there is any misunderstanding, please let me explain. I've know all along and fully intend to participate again in the challenge. It's one of the most exhausting, rewarding, and downright amazing experiences I have with writing, reading and making virtual connections to others!
My question has related more to my students and presenting them with the slicing challenge as well. This year, for a number of reasons, is the first in three years that I haven't had students blogging regularly throughout the school year. That, in and of itself, made me think that perhaps I should just write this year as just me. Add to that, the fact that I've returned to full-time teaching when, for the past three years, I taught mornings only. It's amazing how much those few hours in the afternoon really added up! Aside from lesson plans to write, papers to grade, and workouts I desperately need to make a priority, I have two kids and a husband who need me too!
Then, I thought about specific students who would love the opportunity to write, some of them could even figure out the blogging thing completely on their own. So for the past two days, I've presented the lesson to my class wherein I explained Slice of Life stories, and shared a few of my favorites from the past couple of years. I invited them to participate at whatever level they feel they can, whether it be 5 or 25 days, or the entire month.
Several students from last year, had that excited twinkle in their eye as they nodded knowingly when I mentioned an upcoming writing challenge. I took names, and gave them options – paper and pencil, type it and email it, try your hand at blogging. In each and every class, there was interest.
So, while I have no idea what it's going to look like this year, and while I would like to have been more instead of less organized, I went for it! We'll give it a go and hope for the best!