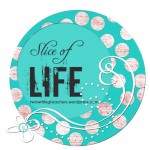 And so it begins.  The thinking, watching, waiting and listening for just the write nugget of truth to share about each of the next 31 days.  It's exciting and scary and encouraging to think that there are so many other writers sharing in this journey as well.  Somehow, this month seemed to creep up on my this year and yet for better or worse, I will write through it with those of my students willing to give it a go!
Having just created seven new blogs, it will certainly be exciting to watch who jumps in and gets comfortable in their new digital space.  There are still others choosing to email me their writing and a third group of students who opted for the paper journal complete with a color picture and pretty binding comb.  It's amazing how many students were mesmerized by that silly binding machine!
Whatever the method, I'm eager to see how each writer grows and develops over the course of the next month!
 Happy Slicing! 🙂 
  This post was written as part of a monthly challenge sponsored by Two Writing Teachers, to encourage writing and community.
The goal is to write a Slice of Life entry each day throughout the month of March.