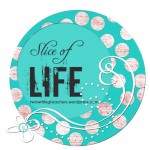 I'm thankful Ito have remembered to post before melting into ones tonight, only knowing that tomorrow is likely even busier.  Thankftonight to for a great group of people to share life with!  Thankful for time this evening to spend catching up on work, even if I think that's a completely impossible task! Thankful for sweet kids who are growing more quickly than I even realize! Thankful for 6 little words to post tonight as my slice:
Chores and challenges mean writing…later.
This post was written as part of a monthly challenge sponsored by Two Writing Teachers, to encourage writing and community.
The goal is to write a Slice of Life entry each day throughout the month of March.