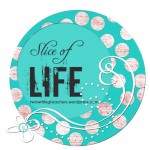 She's been here
once, and yet it's
enough to have made her an
expert in her 
4-year-old mind.  
She flips,
flops,
jumps and twirls,
her tiny leotard making
her look
older
and more independent.
Embarrassment and frustration
as she realizes she can't 
quite figure out the climbing rope.
The look is soon
replaced by smiles as she 
takes to the trampoline,
the balance beam,
the bars.
Class is finished
and in her little-girl
glow with her
big-girl voice she says,
"Did you see me Mom?
Wasn't it awesome?"
…and it was.
This post was written as part of a monthly challenge sponsored by Two Writing Teachers, to encourage writing and community.  The goal is to write a Slice of Life entry each day throughout the month of March.