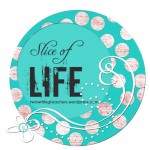 Ever have one of those days?  Days when you wake up feeling great and thinking about how productive you'll be, and how on top of kicking butt, you feel good, happy, and you're even having a good hair day?
And then you glance at the clock and you notice it's only 8am, and you've already refereed at least two moderate scuffles between the kids and popped a birthday cake into the oven after pulling out store-bought (gasp!) cinnamon rolls for breakfast.  After realizing you're out of eggs for the second layer of the cake, and watching the first one fall into three big chunks as you attempt to wrestle it from its pan, you're husband graciously offers to run to the store for eggs…and another cake mix.
Your daughter helps wrap the birthday present so it's ready for the party she's invited to in a few hours, and you decide to use the smidge of remaining wrapping paper for her to make a card.  But those helpful cut lines on the inside of the wrapping paper make for a less-than-love card, so you use the papercutter and glue it onto a piece of cardstock.  Voila!  A little later than planned, you hop in the shower remembering that you will be going from party to music festival where you'll watch you're son perform in his very first (and only!) choir concert of the year!  The camera is packed with the telephoto lens.  Video camera is ready to be manned by your man, and the grandparents have been notified of the big event!
Showered and dressed you realize there's only about 10 minutes left for your hair which typically dries slower than paint on a humid summer day.  So, an improvised up-do twist will have to suffice, in order to keep from being really late to the party.   About 10 minutes too late, you realize you forgot to text your friend to see how you could help her since she would be attempting to get two kids in two different places all by her lonesome today.
The party, and friend who is already there, turn out to be a good time, not that you doubted it would, it just seemed rushed and hectic getting there as usual.  The momentary panic over the potentially lost purse wanes as you acknowledge how extra snuggly you're sweet girl happens to be.  She promptly raises her warm head to let you know her ear hurts.  Bowling finished and pizza devoured, the cupcakes are hastily eaten as you apologize for your early departure, which is necessary in order to see your little guy perform.  As you buckle the girls in, now finally able to lend that helping hand, your phone rings.  It's your husband informing you of the monumental meltdown occurring stage right because someone "wants Mama!"
The cross-town drive has never felt slower as you offer a silent prayer of thanks for the parking spot in the puddle that's only 100-yards from the door.  Both girls in tow, you watch for traffic and take off running, thankful that your husband has the camera since you're not sure how you'd carry it.  You make it to the sidewalk and give the girls permission to run like the wind.  A premonition and backwards glance lets you see your sweet girl, running despite her throbbing ear, tumble forward palms outstretched, the pink hearts on the knees of her purple tights scraping the ground.  In an instant, you scoop her up and keep running as she smiles up at you and asks why you're carrying her.  You grin at how tough she is.
You make it through the crowd and find Grandpa who keeps the girls with him as you attempt, in vain, to stanch the flow of his tears.  In the course of 3 minutes flat you try to comfort and soothe, coerce and final comply walking perhaps just a little too fast in the opposite direction of the stage while his dressed up classmates march onto the stage.  You squeeze your way into the back of the auditorium and sit square on your feet near the back row as he perches on your lap.  By the end of the twenty-minute program, your feet are asleep and the sting of tears threatens to betray your attempts to keep it together.  You're heartbroken for feeling frustrated and not being there for him.  You're hopeful that he'll remember how you wanted the best for him, even if that meant sitting on the floor, toes tingling.
After the performance, you make your way to the hall where you see students, former students, parents, and finally the rest of your family.  You follow your son a moment as he searches for his art project on display and finally, you exit offering a look of apology to Grandpa for the 45-minute drive.  He smiles and waves it off.  Still teaching you what it means to be a parent.
The warmth of two tiny grasps warms you in the bitter wind that snuck in during the concert.  You make your way to the vehicle and offer good-byes before going separate ways…Grandpa, Dad and son, Mom and daughter.  You chuckle as Grandpa passes by, having taken the "scenic route" from the school, and now in front of you as you head to run a couple errands.  Before heading home, you decide to get your daughter checked since it's likely an infection and what better time than now to get her feeling better.  She settles in the backseat and snuggles for a snooze.  The drive is quick and easy, and her post-sleep squeeze as you carry her in melts your heart.  She sits and watches a favorite show playing in the kids waiting area while you take advantage of the few minutes and get yet another paper graded.  As suspected, it's an ear infection and a quick prescription is all you need.  Waiting for it to be filled, you stop in at the church to check on the fundraising sale, where your daughter finds a pom pon to keep her occupied.  She plays and squeals with one of her favorite friends as they run in, out, and around an adjoining room.  The next thing you know, they're stopping, concerned.  You hear the word "smoke" and notice the pom pon smoldering on the lightbulb of the table lamp.  You unplug the lamp and let them know it's never a good idea to put things on lights.  No flames.  Crisis averted.
You head home to find dinner waiting, and spend the rest of the evening finishing birthday party festivities for a certain son the following day while Daddy snuggles and watches movies with them to close out a crazy day.  After the kids are in bed, you share a few tears with your husband while frosting the cake, careful they don't destroy any of your hard work.  You sit and think and conclude that even as crazy as the day may have been, it's part of an even crazier big picture.  And the only chance you have, is to live it, love it, and thank God for it.
If you've made it this far…you're a saint.  And if you've ever had one of these days…you'll know that it just had to be recorded, not as a means of complaint, but because it's almost too unbelievable to be real.
This post was written as part of a monthly challenge sponsored by Two Writing Teachers, to encourage writing and community.  The goal is to write a Slice of Life entry each day throughout the month of March.