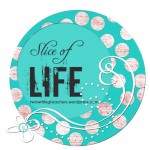 The bing of the PA system  broke through the din of partner reading.  They hushed and waited, each of us expecting to hear that Internet service had been restored, or another request of our principal to report to the office.  As his voice broke through, there was an audible smirk evident as he prefaced his report by saying it was perhaps the strangest announcement he's ever had share.  Curiosity piqued by the far more interesting interruption, stapled short stories fell silent on the tabletops.
"At this time, students and staff are advised NOT to exit the building in the direction of the staff parking lot, as there is…a disoriented skunk wandering around.  We have made contact with city officials to monitor the animal and we will make another announcement later if necessary."
Considering that our classroom faces the staff parking lot, we all gravitated toward the window and spent the next few minutes watching the city police car and our principal monitor the skunk which wandered in circles, stumbling under one car to the next.  Thankfully, there were no "casualties" and it offered just enough odd appeal to make for an interesting Monday!
This post was written as part of a monthly challenge sponsored by Two Writing Teachers, to encourage writing and community.  The goal is to write a Slice of Life entry each day throughout the month of March.