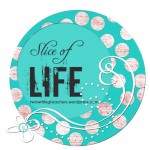 Now six and having spent several hours playing with his sister and little girl cousins, he's ready for something else.   I watch him from across the table, sitting with the bigger kids and a few grown-ups, he listens intently to the rules of the game.  As we play, I notice the flush of excitement that colors his checks when he gets the right answer, and the slight shrug of his shoulders when his choice isn't heard over the louder response of is older cousin.
We finish and choose another game, and this time he's on my team.  I whisper in his ear, and watch him sound out the words on the cards.  We choose, and he grins in anticipation of the great "joke" that is sure to help us win.  I notice, as it's our turn to put the play into action, that he does exactly what I asked. He does it well.  The very first time.  I am so awed by how old he seems.  Today, playing games with my son, was exactly where I needed to be.
This post was written as part of a monthly challenge sponsored by Two Writing Teachers, to encourage writing and community.  The goal is to write a Slice of Life entry each day throughout the month of March.