Every year, I'm surprised by how quickly the time has flown by, and how I could possibly be so blessed to be the mother of such an amazing kid.  Today, we celebrated Calder's 7th birthday.  The cookies were ready to take into his classroom, balloons of his favorite color were scattered across the dining room table and seven streamers graced his bedroom door.  Excited, he woke up far earlier than usual, and especially early given his later bedtime the night before.  
We snuggled for a moment and then he chatted with Daddy before I padded upstairs to grab his gift and a birthday sign I'd forgotten to put in our seasonal picture frame.  Seneca's door creaked open and she gave a loud grunty-squeak.  She was upset that I hadn't woken her earlier to make a special breakfast for her brother.  Speaking loudly, I shared that I thought he might still be sleeping and that she should come to our room to get his card.  
A few seconds later, we headed downstairs where she was all smiles prepping his special breakfast.  Fruity pebbles, bread with Biscoff, and a few saltines with Nutella.  She wanted it arranged on the tray so we could take it in to his bedroom and wake him up.  But not before she added his card, which she'd signed sprawled across the kitchen floor.  I noticed her there, writing, stopping, thinking and writing more.  She never once asked how to spell anything.  Candle lit, and crepe paper streamers held safely aside, she led us into his room where he "woke up" perfectly.  We sang happy birthday and he blew out the candle in his dry cereal.  When I read the card, my heart melted!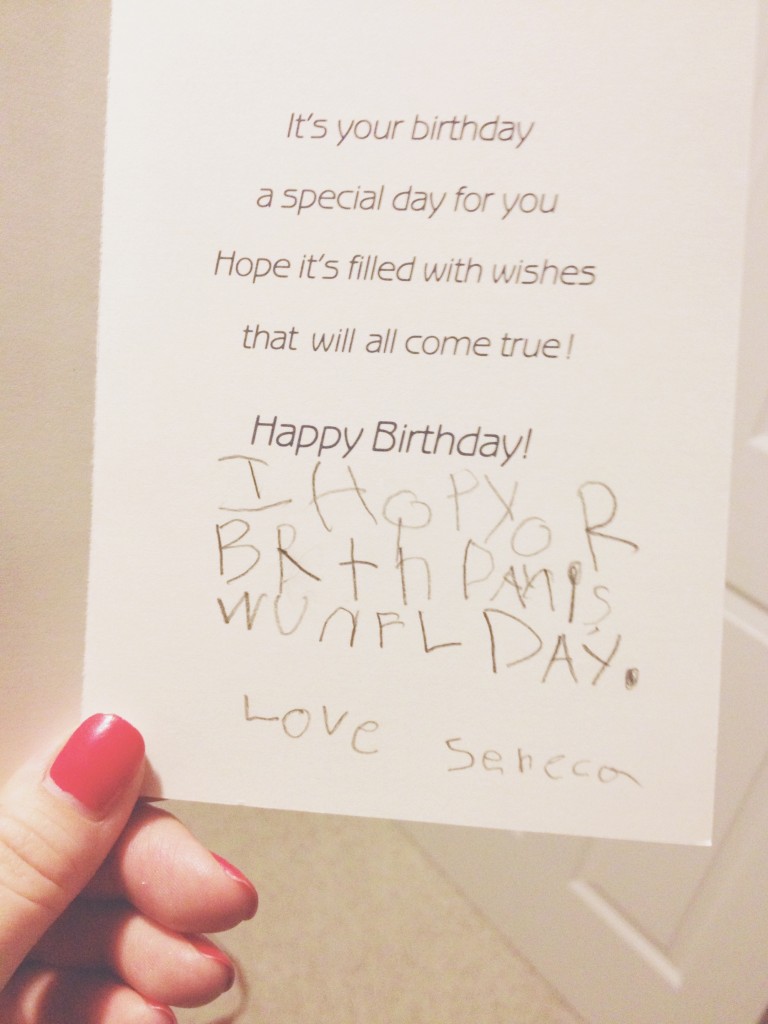 We headed to school since we weren't one of those with a snow day today – though our drive in made me think perhaps we should have been!  And I was thankful for the opportunity to take this adorable boy out to lunch!
And like the pictures from all the years before, he showed us just how old he turned!  It wasn't until sitting here tonight though, that I realized he did this all on his own.  He knows our traditions.  He even reached for his baby book last night before bed!  
The day ended with an hour playing at the library and Calder's choice for dinner – Chinese!  We met another family there whose little guy was turning 6, and ended the evening with a fabulous fortune that couldn't have been more accurate!!
Happy Birthday, Calder!
We love you!
Mom, Dad and Seneca!
This post was written as part of a monthly challenge sponsored by Two Writing Teachers, to encourage writing and community.  
The goal is to write a Slice of Life entry each day throughout the month of March.