Yesterday, we visited my parents yesterday and enjoyed food and conversation (amidst a bit of housekeeping and cable-wiring).  As evening fell, we headed out for games with my aunt and uncle.  As it turns out, only one game was played, but we laughed 'til we cried and enjoyed the evening together.
After a less-than-comfortable snuggle, we awoke having sprung ahead in time, all the nearer to the end of this bitter winter.  Mom left for work, while we rubbed sleep out of our eyes.  Once fully awake, the chatting and coffee flowed freely into the late morning.  A few trips outside revealed today to be one of those perfect days where the sun shone warm on faces, and the chill of the air caused by the still heavy blanket of snow seemed bearable without a breeze to whisk away the promise of longer and brighter days held in the wide palm of the blue sky.
Packing to leave, Grandpa sent the kids down the hill by the barn.  Laughing and loving it, they were sledding in the sunshine.
Drenched and cold, they climbed into the van claiming it was worth it.  Squinting in the sun for a "selfie" with Dad, I had to agree!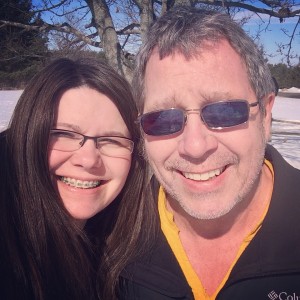 This post was written as part of a monthly challenge sponsored by  Two Writing Teachers, to encourage writing and community.  The goal is to write a Slice of Life entry each day throughout the month of March.