I've always loved the way the start of a new school year seems like a new beginning in life. Just like those January resolutions, I find myself being more mindful of healthy habits and taking on new challenges like resolving to stay more organized or carve out time for reflection and wonder.
This summer, I fell in love with a singer/songwriter and have played her entire playlist on YouTube about a million times. So when I heard this song, it aligned so nicely with the start of the school year that it became a bit of a mantra for me.   I shared it with my students today in hopes that they too will "train our eyes to find the light, that makes this the best year yet."
Since I resolved to be more reflective, I wanted to capture a bit of our learning environment here.  It's often challenging to make the best use of our classroom space given that we are limited by the furniture we have and need to accommodate upwards of 30 students in different hours.
This is the board students see across the room when they walk into class.  It refer to it as our "at-a-glance" board.  They'll be able to find the daily schedule, current grades, class announcements, homework reminders, etc.
From the front looking back, students see our classroom library, which is organized by genre and then loosely in alphabetical order.  I try to keep series books together on a separate shelf and I have space available to display new additions to our library, and a place for them to make suggestions for books they hope to see added.
Nearest the door is our Reading Graffiti bulletin board, which I will model with our read aloud and students will use throughout the year as they complete their own independent reading books.  The small bookshelves are where we keep some of the supplies we will use in our Interactive Journals and other class projects.
Here, students will find a folder where I put extra papers for anyone who was absent.  There's also a "charging" station" for devices if they need to power up.
The "green table" is shared space for me and the students.  If they need pencils, highlighters, erasers and such, they are welcome to get them from here.  I also use this to "stage" the papers I might need for each day's lesson, and to house back-up supplies I'll use to replenish what I have set out for students.  The subway art sign changes with the seasons, which keeps them intrigued.  The bulletin board here is about our classroom rules, which is basically an acrostic poem of the word RESPECT.  I'll post a picture when it's finished (though you can see it better in the next photo).  Right now, it's just the vertical word until I "highlight" one or two of the  concepts each day the first week of school until we've spent time discussing each one.  Whenever possible, I try to incorporate positively phrased classroom expectations such as "Remember to bring your journals to class," instead of "Don't forget your journal."  I've tried to be very intentional about incorporating that same idea into the classroom posters, anchor charts and even in my conversations with students.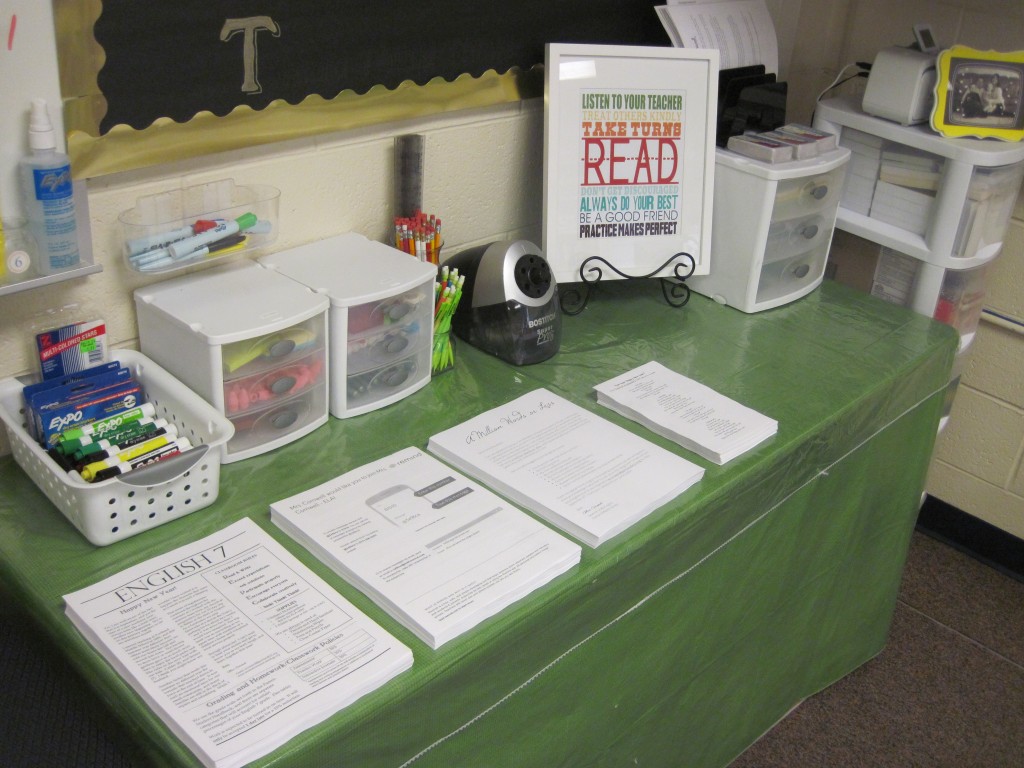 One change I made last year was to eliminate my teacher desk and opt for a small table instead.  Truthfully, it's been helpful and I found that I wasn't really using my desk much anyway.   This is my view if I am at my table/computer.  I love being in the back of the classroom as it allows me to look over the whole group during their work time.  When I do need to be up front giving direct instruction, I just pop to the podium for a bit and use my wireless keyboard from there.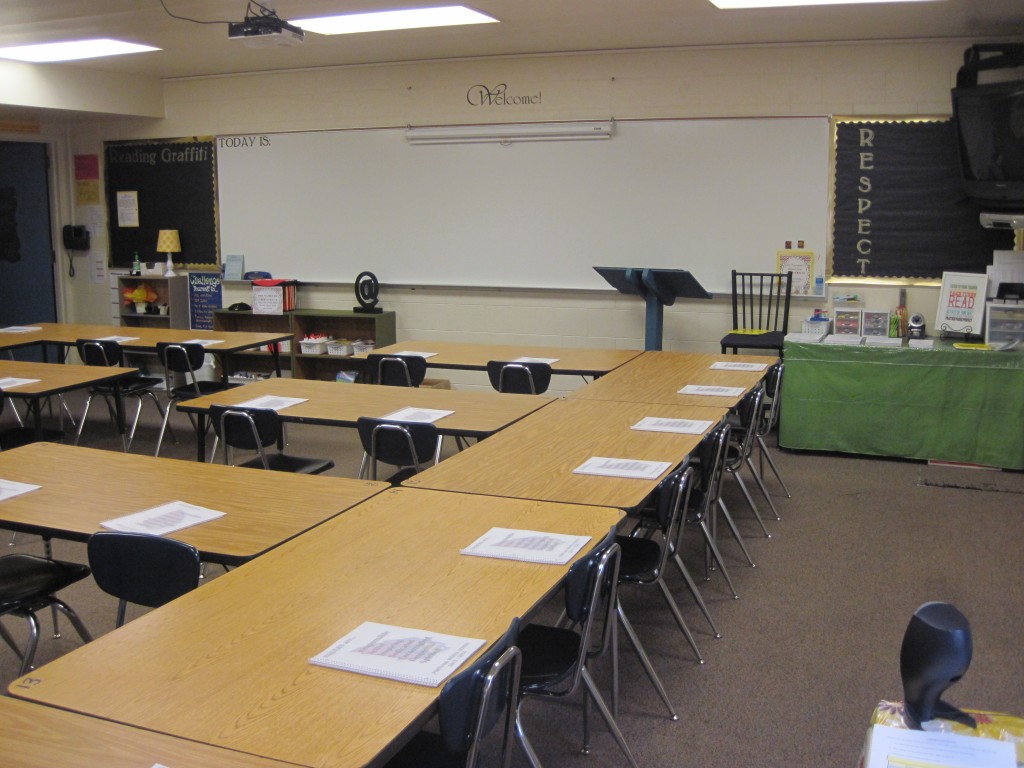 It always feels different once I get students in seats, and so far I think this arrangement will work fairly well.  I will likely use cooperative groups as an alternative seating arrangement as well, but I like to start the year is most everyone facing forward.
I'm excited to start leading and learning alongside these new seventh graders this year!  Happy New Year!