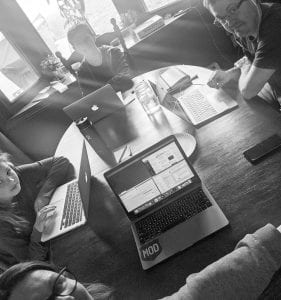 We're trying to establish routine. We're each working – on job-related tasks, on homework, sometimes both. We have already taken the dogs on a short walk, played a card game, and enjoyed one meal around this same table. We're working on collective and individual goals. While showers have become a bit less frequent – with the exception of our teenager who is eligible to play video games only on days he showers! 🙂 – we all make it a point to brush teeth and put on real clothes at least once every couple of days! It might sound silly, but not putting on make-up or doing my hair means I have even more time at my disposal.
I've read several articles hypothesizing the potential positive outcomes as a result of this social distancing. Will companies require as much in-person travel given that we realize the time saved, potential productivity increased, and cost-effectiveness inherent in holding virtual meetings? Will more people be interested in the possibility of working remotely now that they know it to be a feasible option?
Additionally, as I spend some of my time at home working on tasks that I otherwise would have only wished to accomplish, one such task is making our work website more accessible to the visually impaired by utilizing headers and alt text on images. These are ways that individuals using screen readers experience the Internet. For my blog, there is little need for headings within each post as I am sharing more of a narrative, but for our work website, we could certainly make use of them. Additionally, I had the pleasure of catching some of this teacher PD as so many are quickly transitioning to virtual learning, and considering the importance of accommodations for learners with visual or hearing impairments is so important. This has me reflecting on my time in the K-12 classroom setting where I often found that supports for students in need of accommodations tend to support all learners. While I should make time for this type of work within my daily schedule, the least I can do is take full advantage of this time I have now and work to incorporate these practices into my routine where they will become second nature in my daily considerations and planning of student and teacher materials.
This post was written as part of a monthly challenge sponsored by  Two Writing Teachers, to encourage writing and community.  While the goal is to write a Slice of Life entry each day throughout the month of March, distance and busyness made that reality less possible. An unexpected positive twist to the COVID-19 pandemic — the cancellations and recommendations to socially distance — means I have more margin in my schedule to write.