I watch through the pane and realize his concentration and focus his scraped knuckles and the acceptable redness left behind by the pavement as he adjusts his seating and his pocket knife for optimal whittling position. I realize my supervision is changing and becoming slightly less required.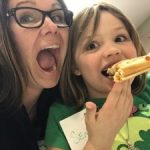 It's been one heck of a week. Twenty-six students successfully completed Swim Safety, and now I'm preparing to settle down with forty rowdy Girl Scouts!! It's crazy. It's busy. It's all I can do to post before turning in.
Looks of excitement, anticipation, and utter exhaustion greeted me this morning. Springing forward an hour, the return of snow to our previously spring-like ground, and the first day of Swim Safety made for quite a Monday, indeed. The glistening flakes lingered as their eyes searched the classroom for anything familiar. We ventured out and they […]
I waited, outwardly patient, for them to leave. I needed them to leave. I told myself I should have gotten up hours earlier. I should have showered and been ready. Instead, I chose a few extra moments of sleep. As it turns out, it was perfectly fine. I kissed them goodbye and set to work. […]
Tonight, I started a second job. I tried to recall the scattered bits of information I gleaned from our hurried time together a week ago, and thankfully, most of it came back just fine. I made a few mistakes, but I'm reminded of the teary-eyed student today who I encouraged. "Mistakes are part of learning," […]
We slept soundly, being profoundly tired in mind and soul. We roll and bury our faces into spaces where darkness isn't depressing, but refreshing. It's here that it seems dreams provide light, each night. We woke with a start our hearts racing to begin this new day… together. This post was written as part of […]
While most days it seems as though we are coming and going to maintain a hectic schedule, today had a lovely quality of feeling both productive and relaxing.  From the first quiet cup of coffee on the sofa to folding the final article of clothing, I felt ready to face the week ahead.  The kids […]
I left with an abundance of time, sunshine, and a feeling that everything seemed to be fine. Brake lights, glow red ahead, and I watch as the minutes pass quickly, while the miles are slow. I see the cause, and feel the effect. I'm thankful for safe arrival and realize that no matter what to […]
I watch them try and test, poke and pester their way through nouns and verbs using words to observe their changing world. They inquire and inspire me in countless ways beyond the days they are in my care. Unknown, we risk our way through this life, and all the while we learn.
I heard the high-pitched ring of the bells that signaled our pup's need to go out, so I crawled out from the cocoon of covers. A few minutes and I was nestled back in, awaiting the prompt return to slumber. Thirty-six minutes later and I finally just got up. In the still of the night, […]