This week has been filled with packing, presenting, cleaning decluttering, organizing, sorting, rethinking, learning, and loving. every. minute. Today, I scratched the surface – pardon the pun – of a lovely little laser cutter. The map project I have been envisioning was etched and edged onto an acrylic plate. Amazed and inspired, I thought there […]
Since the holidays I have been crocheting.  A lot.  Blankets, hats, bunnies, washcloths, more blankets.   A while back I started a sweater. An actual, wearable sweater. Tonight I attempted to put it together, and well… it's not quite as wearable as I had hoped.
Every so often we have a day when our collective moods mirror each other's and smiles flash with more frequency. I'm reminded today to look for, listen to, and TELL THEM more often that I see them. I notice more than the behaviors I too often correct. Today, sweet girl, I see you. I see […]
I planned to write each day. I drafted and crafted lines and rhymes, that remain unpublished. Why? Fatigue. Uncertainty. Events that upended, and continue to, the careful constructs of love, hope, peace, joy, and safety I had taken for granted. Then… I remember that sharing words of forgiveness, care, concern, thoughtfulness, joy, peace, and love […]
I watch through the pane and realize his concentration and focus his scraped knuckles and the acceptable redness left behind by the pavement as he adjusts his seating and his pocket knife for optimal whittling position. I realize my supervision is changing and becoming slightly less required.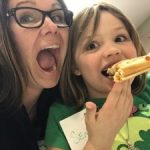 It's been one heck of a week. Twenty-six students successfully completed Swim Safety, and now I'm preparing to settle down with forty rowdy Girl Scouts!! It's crazy. It's busy. It's all I can do to post before turning in.
Looks of excitement, anticipation, and utter exhaustion greeted me this morning. Springing forward an hour, the return of snow to our previously spring-like ground, and the first day of Swim Safety made for quite a Monday, indeed. The glistening flakes lingered as their eyes searched the classroom for anything familiar. We ventured out and they […]
I waited, outwardly patient, for them to leave. I needed them to leave. I told myself I should have gotten up hours earlier. I should have showered and been ready. Instead, I chose a few extra moments of sleep. As it turns out, it was perfectly fine. I kissed them goodbye and set to work. […]
Tonight, I started a second job. I tried to recall the scattered bits of information I gleaned from our hurried time together a week ago, and thankfully, most of it came back just fine. I made a few mistakes, but I'm reminded of the teary-eyed student today who I encouraged. "Mistakes are part of learning," […]
We slept soundly, being profoundly tired in mind and soul. We roll and bury our faces into spaces where darkness isn't depressing, but refreshing. It's here that it seems dreams provide light, each night. We woke with a start our hearts racing to begin this new day… together. This post was written as part of […]