Mornings of laughter, make great days. Great friends.  Hot coffee.  Fruitful conversation. Fruitful afternoon spent transforming old furniture. Old sweats and favorite blanket. G'night!  
Sometimes, the truest form of slicing comes on those days when the greatest way to capture it is with a six-word story. Here's mine this springing forward Sunday… One of those great, tiring days!
Awake in a sleeping house ~ Spring Break! This post was written as part of a monthly challenge sponsored by Two Writing Teachers, to encourage writing and community.  The goal is to write a Slice of Life entry each day throughout the month of March.
I'm thankful Ito have remembered to post before melting into ones tonight, only knowing that tomorrow is likely even busier.  Thankftonight to for a great group of people to share life with!  Thankful for time this evening to spend catching up on work, even if I think that's a completely impossible task! Thankful for […]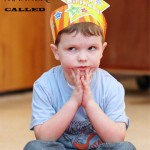 Today, students learned about the beauty and simplicity of the 6-word story.  We'll be using this as a summarizing strategy for chapters as we prepare to read realistic fiction in the coming weeks.  Today, students were free to choose their own topic and write something that was on their mind today, but do so […]